Sharon Krulak
Vero Beach, Florida
443-722-0221
Artist Statement:
"Torn Paper Collage" has recently become my creative outlet, passion and art expression after many years as an Interior Designer & Custom Home Builder. This medium allows me to express myself in a whimsical and creative way that constantly evolves until the final image appears…..often surprising me.
These brightly colored collages are composed of many snippets of torn papers which become my "paint palette".
I include all types such as magazines, maps, stamps, various patterns and textures and also many of my hand-painted papers.
There are words and phrases in some of the text of the papers that seem to magically appear as the torn bits are placed on the image personalizing and enhancing the interest of the collage.
The different textures contribute to the painterly quality of the collages as I layer and weave them until I achieve the desired effect. Many rhythmic layers of color are needed to accomplish the whimsical, spirited results.
It is a great pleasure for me to see people smile as they encounter these works of art.
ENJOY!
Sharon Krulak, Torn Paper Collage Artist
Email me to get your favorite collage as a high quality, signed, matted print.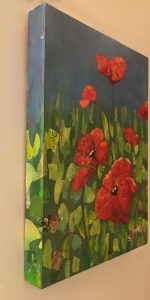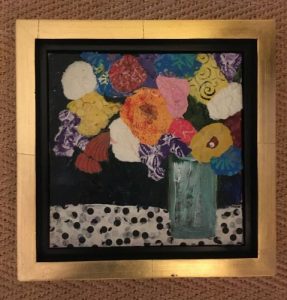 Most of the collages have a finished edge, no framing necessary, as the art continues onto a fully-covered edge. A few are pre-framed, and the frame is shown in the pictures of these items.
All collages are ready to hang!
Any of the collages shown in Original Art can be shipped anywhere in the continental USA, and shipping is included in the prices shown. Outside that area, or for any collage in the Large Art Gallery, contact me by email for a price including shipping; be sure to include your shipping address and the names of the collages you would like to purchase.